Support yourself and your enterprise with specific operational guides.
$48 unlocks copy/paste from this website for 3 months, bonus content and permission to use the contents freely within your own organization.
One time charge, does not renew.
$120 perpetually unlocks copy/paste from this website, bonus content and permission to use the contents freely within your own organization, plus printable versions in PDF, MS Word and Google Docs.
When you're finding the content helpful for your program, copy/paste it directly into your own documents from the website.
Program in a box
$4850 provides all of the assets you need to operate your program and 8 hours of consulting time to help implement and report program progress to your leadership.
Anyone implementing a compliance program for accessibility will find value and inspiration in these assets.
Slide decks
Includes requirements by role and the 12 simple rules. All of the assets are designed to be generic and easy to edit/customize for any organization. The slides have spaces to add links to org specific policies and contact info. The spreadsheets are straightforward to edit/manipulate.
The slide decks for each role follow the basic outline of their entry in the book and are designed from the point of view of someone conducting a basic "intro to accessibility" training/onboarding for each role.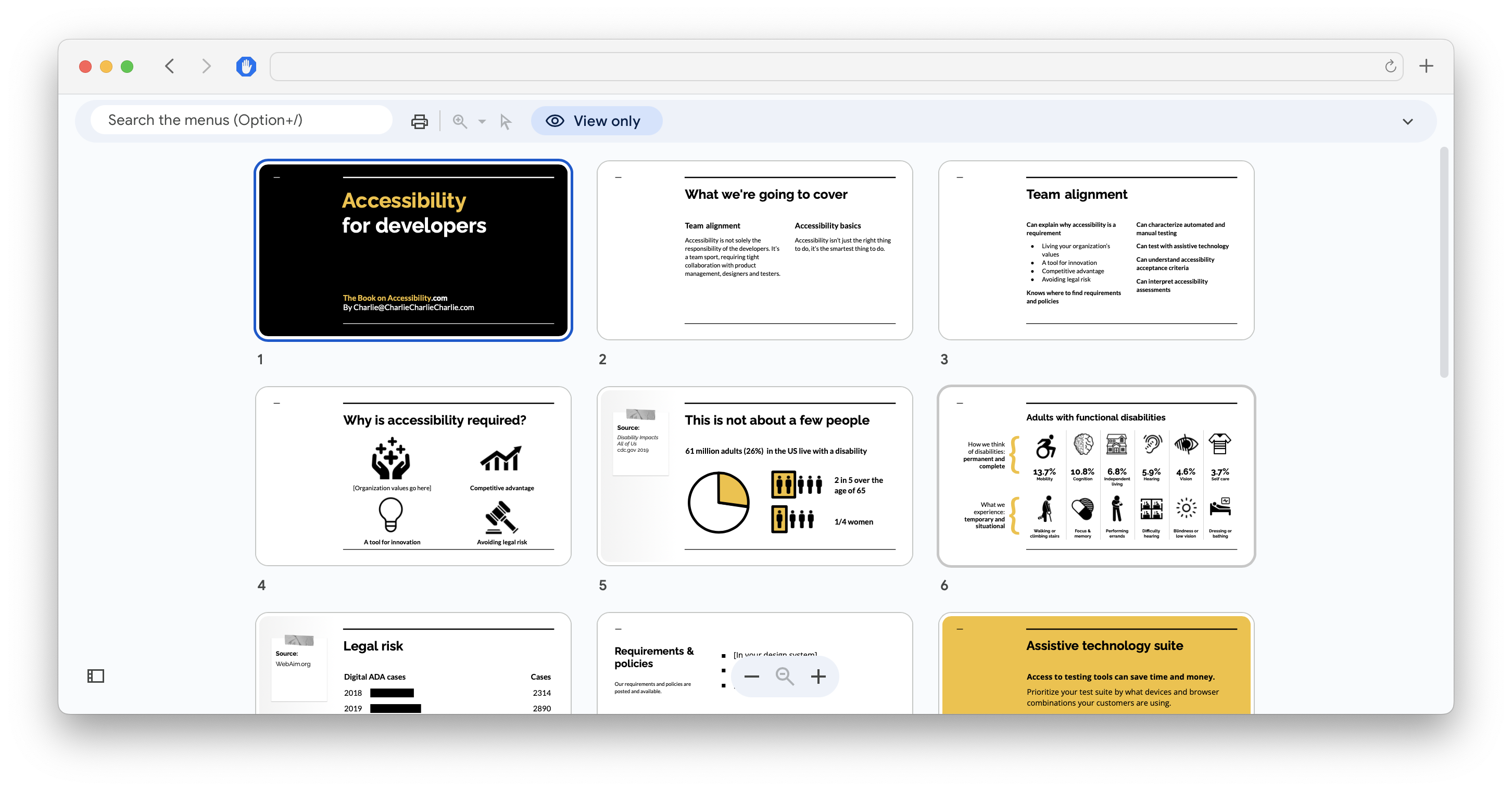 Accessibility score calculator
The quarterly sprint report sheet is a calculator that takes data from any program measurement sources (Ex: defects from assessments and training completion) and produces both an accessibility score and a risk score.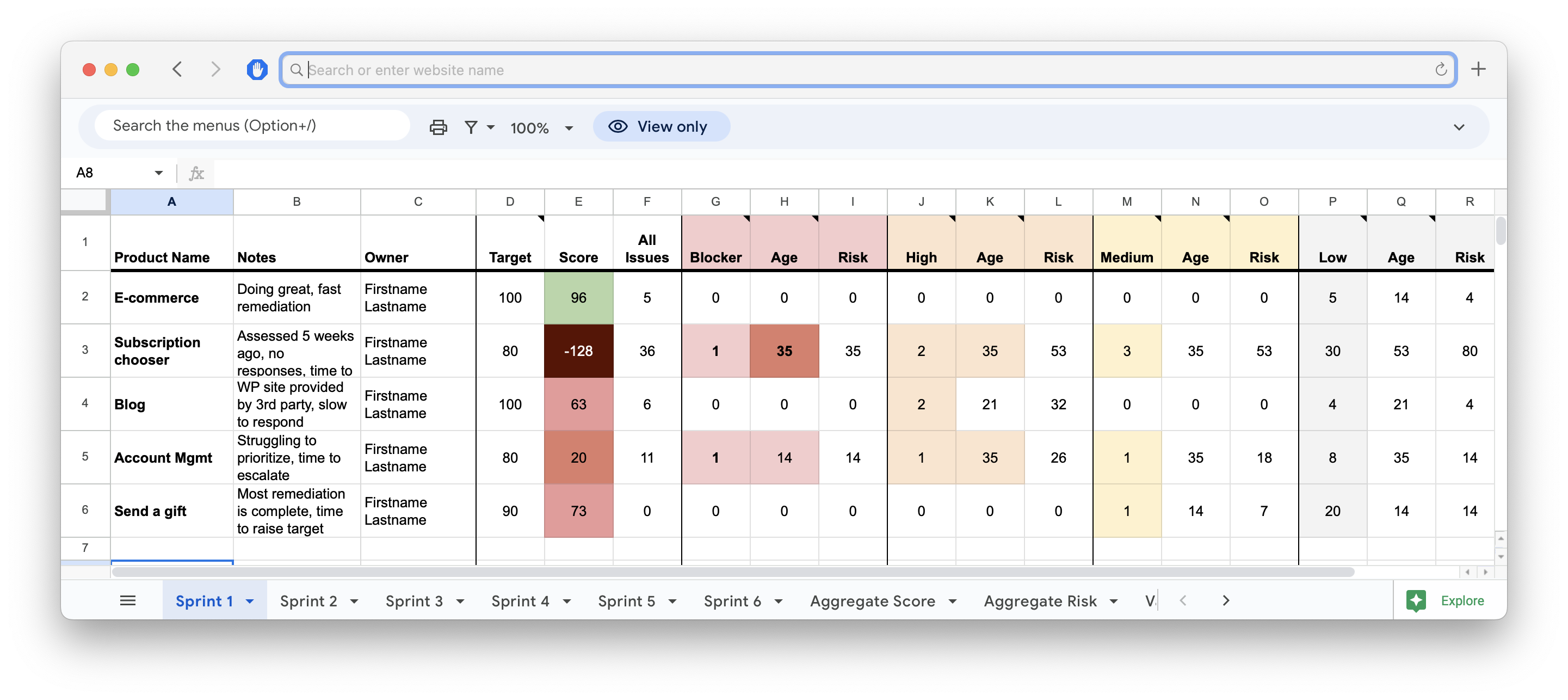 Included assets
8 hr consulting retainer
Unlock copy/paste from website
Access to bonus content
Report template

Quarterly/sprint target score calculator

To-do items for quickly importing into your project management system

CSV file
Google sheet
Excel

Slide decks

Requirements by role
12 simple rules (illustrated)

Printable guide PDF, Google doc, MS Word
Permission to use the templates, todo-items, slide decks and guide content within your organization
Consultant subscription
Would you like to use The Book on Accessibility in your own practice across multiple clients?
$199/yr provides guides in formats you can print on your own. Copy, paste and use as you need (from this website too) with no restrictions. 2 year minimum subscription.
Unlock copy/paste from this website
Access to all bonus content
Downloadable PDF
Downloadable MS Word document
Google doc
Nonprofit
Reach out on LinkedIn and tell me how a discount for your nonprofit organization's efforts would help.
Licensing
The licensing agreement is very generous, but there are some limits.
The basic rules
You may only use this document within one organization.
Reproduction and distribution outside the original purchase entity is not allowed (without the consulting license).
What you can/can't do
With any license from The Book on Accessibility®, you can copy/paste this content into your presentations and policies for only one company.
You cannot use it across organizations (without the consultant subscription).
For example, if you are a program manager and you want to use the todo-lists to track best practices at the company where you are employed right now, you can do that.
If you are a consultant and you want to copy and paste content repeatedly for all of your consulting clients, that is not allowed (unless you purchase the consultant subscription license).
Questions and support
If you have any questions about the license or need help with accessing content, please reach out: Charlie Triplett on LinkedIn